Find the Best Employees: A Quick Hiring Process Check
2019-04-02
According to the International Labour Organization, Asia Pacific's unemployment rate remains the lowest across the world at 4.1%.
With the current job market that is skewed in favour of candidates, businesses are not only asking where to find the best candidates, they're also asking how to find good employees.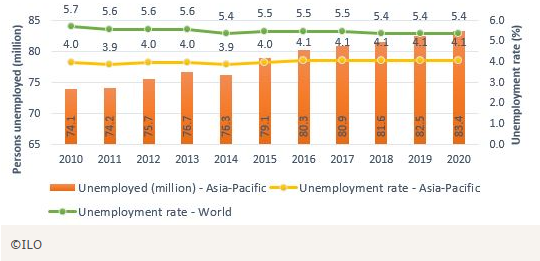 Source: International Labour Organization
Seeing how companies are pining for the best candidates and reaching out to top-tier professionals, the best candidates in the market know that they're in demand. This makes it an imperative for companies to improve their hiring process and candidate experience so they can attract top candidates and not lose their current performing employees to competitors.

Is your hiring process up to standard? Here's a quick hiring process checklist to help you clean up your recruitment process and attract the best employees like bears to honey. Need help finding your next hire? Leave the heavy lifting to our professional recruitment consultants at Links Recruitment, contact us now.
Source: GIPHY
Do you know your brand?
Is your company properly articulating the employer value proposition. What does your company have to offer to its employees and how is it different from its competitors and what they have to offer? By knowing and communicating your company's brand, the culture that employees live and breathe in, you are making a more targeted approach towards the best fitting talent who are more likely to stay for the long run.
How clear are you in your messaging?
For top talents, who are scarce in the market and highly sought after, it is important that companies market themselves properly. Through clarity and a clear communication of what your company genuinely has to offer, you're making it easier for candidates to engage.
Let them have an idea of what they are signing into, this will help candidates form a better mental image of what it'd be like working in your company, standing out from other firms with vague/ generic descriptions.
In a recent series we did, The Ultimate Recruitment Guide, we published a post of how to create captivating job descriptions. Make sure to check out the article if you've missed it, so you can start writing job descriptions that appeal to your target candidates.
Are your benefits worth bragging?
With a job market that favours candidates, talent have more say and are expecting more from their work lives. Aside from general benefits, many are either looking for a job with career advancements or a workplace that allows for work life balance. This may come in the form of flexible hours of working arrangements.
According to a survey by CIPHR, 75% of working parents reported that they were suffering from stress and anxiety due to the lack of work life balance, so more top candidates are now demanding for more flexibility from companies to help them manage their work life balance.
What does your company have to offer, and does it satisfy the needs of your target employees? If not, perhaps it's time to consider a more holistic employee engagement plan to help attract the top employees in the Asia job market.
Are you using the right tools are your disposal?
You can use different platforms depending on the target audience and the type of employees you are looking to attract. Use social media to your advantage. This is an especially powerful tool if your brand already has an existing audience base, as it's easier to appeal to people who already have some awareness of the brand.
For more complicated roles which are either looking for talent that is rare or are time sensitive, you may consider hiring a professional recruitment agency. The benefit of a reputable recruitment firm is that they'll have access to a larger pool of talent, helping you more quickly hire the employees you need to build your business.

Are you thinking beyond the hiring process?
A good candidate experience and hiring process is one that exists beyond the recruitment strategy. For companies to really attract and find the best employees, it's important that they first think about their people, their current staff.
When employee retention rate is high, it indicates that the company has a good environment with people who want to stay. So companies that engage their employees and puts their people first have a better chance of hiring the best employees in the market.
Do you have brand ambassadors?
With the rise of platforms like Glassdoor, LinkedIn, and Indeed, candidates are now looking beyond what the company promises and into what actual people say in real life about the company. By taking the time to strengthen your brand on these platforms and creating a positive brand awareness, can help you in recruiting talent you need.

Know your company's needs
The key challenge in recruitment is not in finding the right talent, but in finding the right talent for the role. This means as consultants, it's important to first have a clear understanding of the purpose of the role, the company needs and the type of character that will work with the business.
At Links Recruitment we offer companies with talent mapping as part of our Apex Search solution, this allows you to have a clearer understanding of the top talents in the market and better evaluate their fit with your company's needs.
Have a people first mentality
A people first mentality applies not only to your current staff but also to your potential employees. For a company to prosper it's important that they first treat their employees well, this helps them build a solid foundation of supporters.
That said, companies should not stop there. It's crucial that companies treat their candidates with respect, this means thinking about the candidate experience and the various touch points which are all part of the hiring process and the brand as a whole.
Know when to ask for external support
When the labour market is scarce, time is of the essence. Use professional recruitment services to get to the best talent in time before your competitors. At Links, we offer both recruitment and HR outsourcing services to help you simplify your HR so you can take better care of your employees. Why hesitate, when you can elevate your HR function today? Connect with one of our representatives and find your next hire here.

---
With 20 years of recruitment experience in Asia, Links has been trusted by over 10,000 clients with finding the best people to build their businesses. Get in touch with own of our representatives and learn how we can help you expand your team.